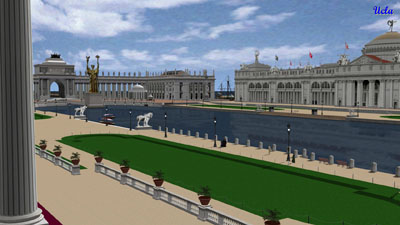 Research and Pedagogical Applications for Real-Time Visual Simulations: VSim and the World's Columbian Exposition of 1893
Dr. Lisa Snyder
Der Fachbereich Baugeschichte::Bauforschung der Technischen Universität Wien und das IVA Institut für Vergleichende Architekturforschung laden Sie im Zuge der Vortragsreihe ZEITRÄUME herzlich zu folgenden Veranstaltungen ein:
Zeit: 27.03.2014

Ort: Technische Universität Wien Hörsaal 7 – Schütte-Lihotzky Hörsaal Karlsplatz 13, 1040 Wien
Please join us Thursday, March 27th, 2014, 6:00 p.m. for a virtual tour of the digital reconstruction of the World's Columbian Exposition of 1893 currently under development at the University of California in Los Angeles (UCLA). In this presentation, architectural historian Lisa M. Snyder will highlight the key arguments for using interactive virtual environments as vehicles for the study of cultural heritage content and discuss the unprecedented opportunities the technology provides for research and pedagogy. Snyder will also be demonstrating VSim, new – and freely available – prototype software supported by the National Endowment for the Humanities and UCLA's Institute for Digital Research and Education to facilitate the educational use of three-dimensional computer models for teaching and learning about the built environment.